So, you're thinking about building a new home and you're trying to figure out what to do first. Well, you're in luck, we're here to help you work through this process. We have information that will hopefully help you get organized in the design of your new dream home. We have been working with folks just like you since 1977, so let's get started!
or the property. The land itself has an immeasurable effect on the design of the home.
Size, slope, orientation, trees, access, price, the current owner, and many other things can have an effect on your selection. If you are looking in a subdivision there are several factors to consider. The current owner may be a builder who will require that he build on that lot. Most subdivisions have deed restrictions to protect the homeowners, which have specific limits on what can be built there, such as square footage, garage door directions, masonry coverage, the exact style of the home, and more. You need to have a clear understanding of these items and how they might affect your home at the beginning of the process.
The size of the lot, easements, and the setbacks required by the subdivision and/or the government entity responsible for the site will also affect the size of the home you want to build. Is the lot level or will there need to be extensive site work or retaining walls to prepare for your home? These expenses will add to your costs. Does the property face the right direction for your personal tastes relative to energy, sunsets, sunrises, and access? What about trees; will you have to cut down all the nice ones to have room for your home?
How big a house
do I need? For most people the answer is a combination of several factors including the site, family size, and economics. The bigger and more complicated the house, typically, the more it costs, although design can have a lot to do with costs.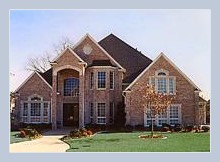 What size rooms
do I want? We always recommend you start by measuring your existing home, then adding the bare minimum to each room size you feel you must have to be comfortable. Using this as the starting point will allow you to enlarge the plans later if it is still in the budget. You will be surprised at how large your new home design quickly grows, so start small knowing you can always add footage.
What about a future
Bonus/Media Center?
These are easier to plan in two story homes, although not impossible in single story ones. Many people mistakenly believe that this is "free" footage so they should plan on it. Nothing could be further from the truth. If the home is one story, allowances must be made for a future stairway, which will add 75 -100 sq.ft. to the original home. Depending on your roofline and the steepness of it, there may be other requirements to generate enough space and headroom for a usable space. The floor joists, electrical, and air conditioning for the "future" room should probably be included in the original design, which add to the cost. However, it may not help the appraised value relative to the final loan on the property.
We have several items to help you work through these questions:
DESIGN WORKSHEET
This is the culmination of nearly 30 years of working with folks just like you; helping them get their thoughts organized for their new home. Taking the time to fill this out will aid you in getting the features of your dream house down on a single sheet of paper.

DRIVES FOR PERFECTION Helps you visualize the effect of lot size, driveways, setbacks, and street location on your new home. Garage placement and driveway design are two of the most important things you should consider when selecting your lot and plans.

ACCURATE TREE LOCATOR Provides you a form to locate your trees, determine what effect they will have on your new home, and decide which ones need to be removed.

BONUS ROOM "SECTIONS"
See how rooflines, pitch, and size affect the final size of "Bonus Rooms"

BUILD IT YOURSELF
An honest discussion of this option.

EXISTING PLANS
A grouping of some of our most successful plans.

COMPANY PROFILE
Information on why you can trust our firm.
Selecting someone to design your new home
is a critical part of the process of building your dream home. While most people think of Architects when they think of design, most homes are designed by a group of professionals known as Building Designers. Architects tend to design large structures, generally commercial, while Building Designers, such as ourselves, design the majority of homes, remodel projects, and many smaller commercial buildings. The success of any design project depends on many factors. In addition to the skill and experience of the designer; open and honest communication is paramount. Even the best designers can't read minds, so
sharing all notes, photos, and your desires with your designer is a must. Most designers, ourselves included, welcome the opportunity for you to interview them, see their work, and discuss their fees openly to help you determine if they are the right designers for you. When you find a comfortable rapport, you'll know you're at the right spot.
You should also begin considering your
builder/general contractor
as soon as you begin the search for your designer. They may have some suggestions and can be beneficial in the early design stages, particularly in budgetary matters. As mentioned earlier, the builder may own the piece of property you are interested in and will want to build the home that goes on it. This is very typical and acceptable IF this is the builder you want to build your home. Don't let the lot overshadow your good sense regarding the builder selection process. Amazingly many people don't get overly concerned about researching their builder. This can be a serious mistake. Look at how much time you spend researching your new $30,000 car; now you are building a $300,000 house. You do the math. Ask for references, check them and ask if they know other clients the builder has worked for, and then talk to those clients. Confirm that the builder returns calls promptly, stands behind his product, has quality subcontractors that have been with him for a long time, takes the time to listen to his customers, does what he promises, and builds a level of product at a price that is within your budget. You are generally best served by a builder who builds the size range home you are considering, as opposed to one who builds much larger or smaller homes. There are skills and products that are peculiar to specific size homes. A builder who typically builds 1400 sq.ft. homes can build a 4000 ft. home, but his knowledge about what is typical for that type of home may be limited. Membership in a builder's association does not guarantee quality or even knowledge, check with real owners. A home is generally the largest purchase in one's life (up to that point). Make sure that you do all your homework before selecting someone to build it for you. As with your designer, the ability to communicate with your builder is critical.
The cost of their new home
is usually important to most people. While the size of the home is generally considered the driving factor to the cost, it is important to realize that it is not the only factor. Most builders have a starting price per square foot for their homes. That number is typically based on the living footage of that home with an average amount of footage for the garage and porches. When you add a third car garage or a wrap-around porch, you add substantial cost to the house that is not reflected in the living footage; thus the builder's price per foot (living) has to go up. We generally tell people that garage/porch footage generally runs about one half the net hard cost of living footage. Additional factors that affect costs are additional plumbing, offsets, high ceilings, complex high rooflines, special insulation requirements, expensive floorings, and high-end interior finish items. Simple design; high percentage upstairs footage, simple rooflines, and typical interior finishes will often lead to lower costs for the same footage. These are things that your design team can help you balance to your requirements.
If all of this sounds like too much trouble and you decide to just
remodel
your existing home, remember that remodeling entails tearing up the old part of your home while you're in it, then building new. Consider that the costs per foot are higher for remodeling, as well as a host of other issues. We do several local remodel projects every year, so we will be glad to discuss the entire process with you; just give us a call. We realize that this is a tremendous amount of information to absorb, however, it is all important, and it all relates to the largest purchase of most people's lives. If you break the information down to sections, absorb it, download what is applicable to you, and then do your research, you will be well on your way to building the home you have always dreamed of.