Unquestionably the best way to achieve a comfortable home design for your family is for you to discuss your needs with a designer in person. Whether you simply need a revision to a plan you see on this site, or prefer a custom designed plan; we have 30 years experience working with homebuyers. We recommend that you visit the
Helpful Pages
for forms to download and fill out. Time spent with these worksheets will help you collect your thoughts, prioritize your needs, and prepare for conversations with your designer. Revisions can vary from as simple as adding footage to a room or two, to combining features from two or three plans into one. Or perhaps you love the plan, but prefer a different style of elevation. Do you like the master bath in the plan, but you have a kitchen you've always dreamed of owning? We can help you achieve your those dreams.
CONTACT US to preliminarily discuss your project or schedule an appointment.
Some people shy away from new designs or revised work because they feel the costs will be prohibitive or it will take too much time. The cost does vary dependent on the degree of work. Minor changes or a different elevation cost less, generally the cost of a "stock plan" plus an hourly fee for changes. More extensive revisions or a custom design is charged by the square foot of total footage. However, this charge is usually less than 1% of the cost of your project. The additional expense will be more than justified to have a home that meets more of the needs that caused you to build in the first place. Regarding the time it takes to design your home, the same logic holds true. In our 30 years we have never failed to meet our guaranteed delivery of ten working days for each step of your design.
Please note that the revisions to plans discussed here are for plans we have designed. The copyright laws are extremely clear that it is illegal for us to use even part of a plan drawn by another designer. Even if you plan to significantly modify the plan, it is still, under the law, considered theft. See our
COPYRIGHT POLICY.
However, please feel free to bring photos of homes you admire, magazine articles and the like to meetings. This will show us your preferences; and although we will not copy the ideas, it will help us understand the vision of your home.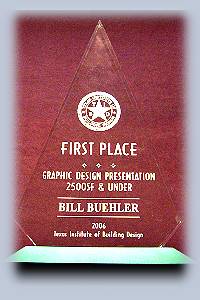 For some families, their dream home is their current home -- with a few modifications. Remodeling may be the right solution for you. We began doing remodel design almost as soon as we started the company, referred by builders who build our homes. They knew we could put together good, workable solutions for the homeowners whose needs have changed but preferred to stay in their current home.
CONTACT US
to discuss the various issues and costs for remodeling.
While we are proud to sell our "stock plans", we have built our company on designing dreams for homebuyers. For most people, the construction of their home is the largest, most important decision of their life. We believe it deserves the extra time, cost and planning necessary to create your dream.