exceptional environments, inc. (eei), is a multifaceted design firm doing business in the Dallas-Fort Worth, Texas area since 1977. Originally a partnership named professional design; the corporation was formed in 1981 to umbrella the various divisions of the company. These are professional design, the architectural division; exceptional interiors, the interior design division; environmental management, the property management division; and inter city builders which is the construction management division. In 1985 the company built the building it now occupies, featuring six meeting areas, and an up-to-date product library.

The largest segment of the practice continues to be professional design which produces 150 to 200 individual design projects a year. These include residential, commercial, remodel, space planning, and various other design projects. In late 1994 the design division converted to CADD using Softplan, an excellent design program. In 2002, the company began using the Internet to market its extensive collection of stock plans. Rather than attempting to offer plans just on their own web site, the decision was made to use larger brokerage sites for better market penetration. The management of professional design is by Bill Buehler, a founder and half owner of eei. Bill is a professional member of both the American Institute of Building Designers (AIBD) and the Texas Institute of Building Designers (TIBD) . All five employees are involved with this division, with three working full-time on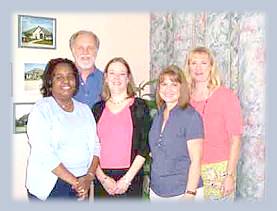 design projects. A knowledgeable staff, attention to details, and a strong adherence to scheduling have kept a perfect delivery record intact. In all of their years of business, professional design has never missed a delivery date which is rare in the construction industry.
exceptional interiors
is managed by Phyllis Thomas Crim, ASID, a Texas State licensed interior designer. She was certified by the
American Society of Interior Designers (ASID)
after passing the NCIDQ exam in 1981. She is also a founder and half owner of eei. Interior projects range from simple residential window coverings to complete interior furnishings and finish of commercial facilities. She also meets with architectural clients, and is involved with every design project.
environmental management and inter city builders are generally specialty divisions, used principally for in-house projects and occasional construction management and consultation.

Bill and Phyllis meet with all clients, keeping track of the pulse of actual buyers, not just the theory of design. Additionally, they attend construction conventions, take continuing education classes, and extensively research construction techniques and products. Hands on training of the designers, both in the field and in the office, insure a thorough understanding of the construction process by the entire staff. Involvement in construction management helps keep them aware of the realities of construction and the problems builders face at the actual construction site. eei is a very fluid company; growing and adjusting to the ever-changing construction market. This allows them to continuously supply outstanding design solutions to a wide variety of customer needs.