exceptional interiors is a full service interior design firm offering consultation, space planning, purchasing, window coverings and remodel design. Phyllis Thomas Crim, ASID , is a professional member of the American Society of Interior Designers and licensed by the State of Texas (Lic #2667). She has been helping homeowners and businesses for over 30 years create comfortable surroundings, solve spacial problems, and update older homes -- all with their budget and personal taste in mind. And since her degree is in architecture with interior design emphasis, she sees your project with more knowledge and choices of solutions.
How it Works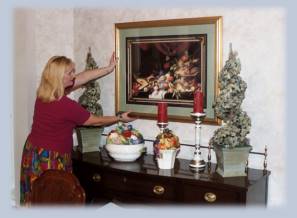 The initial consultation is to discuss the scope of the project, determine your budget, and learn your needs, desires, and lifestyle. A plan of action is agreed upon and the work begins, with the choice of do-it-yourself projects or hiring contractors to implement the work. Your personal taste and lifestyle will be foremost in deciding key elements of the design. Phyllis works with you to create a master plan, making sure you visualize the finished product before any work begins.
What Can She Do for Me?
You may hire Phyllis just for a few hours of consultation to get you started, or she can do drawings and specifications for you to hand over to a remodeler. Then if your time is limited, she can act as your liaison to oversee all purchasing and installation. One room - the whole house - or an on going project are available options.
Design with Your Dollars in Mind
Phyllis understands that everyone has a budget, and is up front and open about charges or costs before any purchases are made. She works hard to stretch your investment so you are pleased with the results of the project, and will want to move on to the next one. However, she uses only qualified subcontractors and quality materials, so she can stand behind her work. She does offer solutions to match any budget; from custom, to ready-made, to do-it-yourself.
Why an Interior Designer and not a Decorator?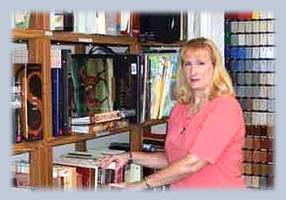 Interior designers are educated, accredited, and licensed by the state. Both ASID and Texas Board of Architectural Examiners have codes of ethics, and require a college degree and passage of an exam. This extra education is reflected in the solutions interior designers provide, and professionalism is obvious in their manner of doing business. However, although they are usually self taught, there are capable, creative interior decorators who take their careers very seriously. For home consultation or window treatments, a competent decorator may serve you well. Nevertheless, for remodeling, large projects or commercial projects, an interior designer has more education and resources.

For more information on Interior Designers
www.Texas-Designers.com
Scheduling an Appointment
Once you have outlined the project you wish to begin, call Phyllis to discuss your needs. She will review pricing with you and answer any questions about the design process. Then you can schedule your first meeting, either at her office to visit further, or at your home or office to begin the project. For weekday appointments call (817) 654-0654.